3 In 1 Home Desktop OfficeTravel Portable Folding Wireless Charger Stand
2021-07-15 18:59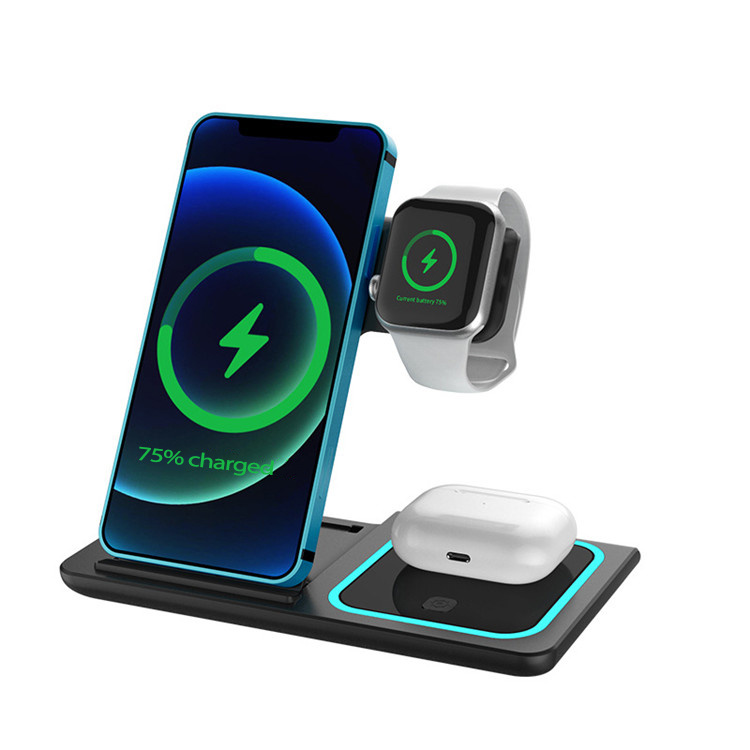 3 In 1 Phone Earbuds Watch Travel Portable Gift Home Folding Vertical Desktop Office 15W Wireless Charger Stand Accessories
3 IN 1 WIRELESS CHARGER: The 3 in 1 wireless charging station can wireless charging for watch,bluetooth earbuds and phone Apsimultaneously at one place. Say goodbye to the messy cords.
Automatic recognition of metal foreign bodies: Support foreign body detection function.When charging, do not put coins, keys, credit cards, or other metal products in the charging area of the device.Do not use a metal phone protective case for charging. The thickness of the back of the protective case is less than or equal to 5mm.
Foldable: The 60° flip opening and closing design is convenient for storage and carrying when going out,and the closing volume is smaller and more convenient. The compact size of the wireless phone charger makes it easy to put in your backpack for home, office, and travel. The elegant shapes can be placed in the bedroom, living room, office desk and more.
Multiple safety protection: Built-in multiple protection functions to ensure safe and fast charging.Over current protection, over voltage protection, over temperature protection, short circuit protection,power protection, under voltage protection, over charge protection, foreign body detection, electromagnetic field protection.
Features: You can charge your phone in any orientation, vertically or horizontally to watch movies,listen to music, make calls or send message without interruption during the whole charging process.