3 in 1 Wireless Charger CW59
2020-09-23 18:48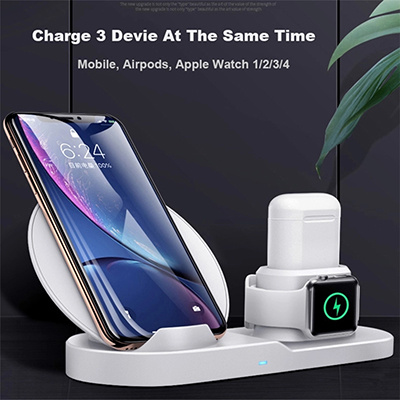 If you're in the Apple ecosystem, there's a fair chance you're all in: iPhone, Apple Watch, and AirPods. Keeping each of these devices powered could mean running three cords to three adapters—or you can simplify it all with a charging station.
Gelbert 3-in-1 Wireless Charger is the best of them, offering wireless power to all your Apple gear in a tidy, fast, and relatively affordable way.
Rather than requiring you to line up your phone on a flat pad, as many others do, it offers an angled stand that's practically foolproof. The AirPods case nestles securely into a divot, and the Apple Watch charges in landscape orientation so that you can utilize nightstand mode.
Whether charging your iPhone overnight on a nightstand, at your desk in the daytime, or anywhere a charger can sit, This 3 in 1wireless charger holds your iPhone in a snug and comfortable position so you can check notifications, read a recipe with friends or watch your favorite shows in either portrait or landscape mode – all while charging your device. The rubberized u-shape cradle keeps your iPhone stable even with a protective case up to 3mm thick, so it's safe and continuously charging. And, there's no need for exact alignment – just drop your iPhone in the cradle and go.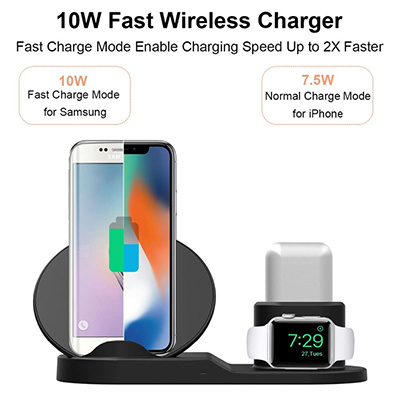 Note: please to check if your phone is Qi-enabled, a power supply adapter is not included for product.
How do Wireless Chargers Work?
Wireless chargers transfer energy via electromagnetic induction from the charger to the receiver on the back of a phone. Some phones come with this receiver built-in, while others need a special case that allows for wireless charging. Some wireless chargers come with the standard 5-watt charging speed, but others are much faster with 10 or 15 watts of power output.