Magsafe 15W Qi Quick Charge Magnetic Wireless Charger
2020-12-09 19:22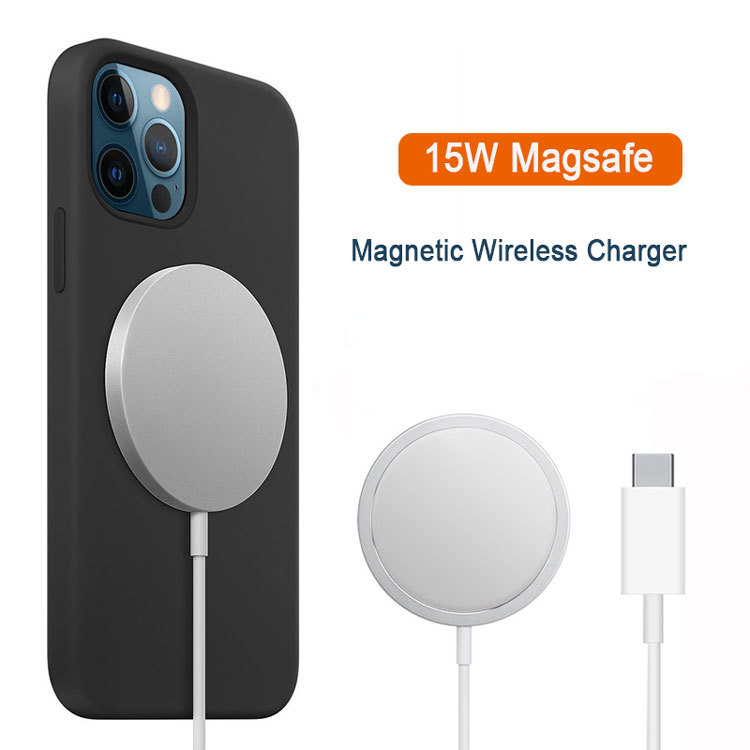 New Arrival Portable Phone Magnetic 15W Fast Magsafe Qi Wireless Charger for iPhone 12 Pro Max Mini
Is MagSafe Qi wireless charger worth it? If you're a fan of wireless charging and need the latest Apple goodies, yes!
MagSafe Qi wireless charger attaches to the back of any iPhone 12 model with magnets and snaps satisfyingly into place. It's also works with thin iPhone cases. The magnets are strong enough to hold up an iPhone 12 Pro while dangling in the air.
You can use at the same time your phone, gaming, surf the Internet or do some other things.
The charger can juice up your iPhone 12 model at up to 15W. Your iPhone 12 model will play its own MagSafe charging tone and also display a full-screen charging confirmation.
If your iPhone is plugged in and charging via Lightning, the latter will override MagSafe.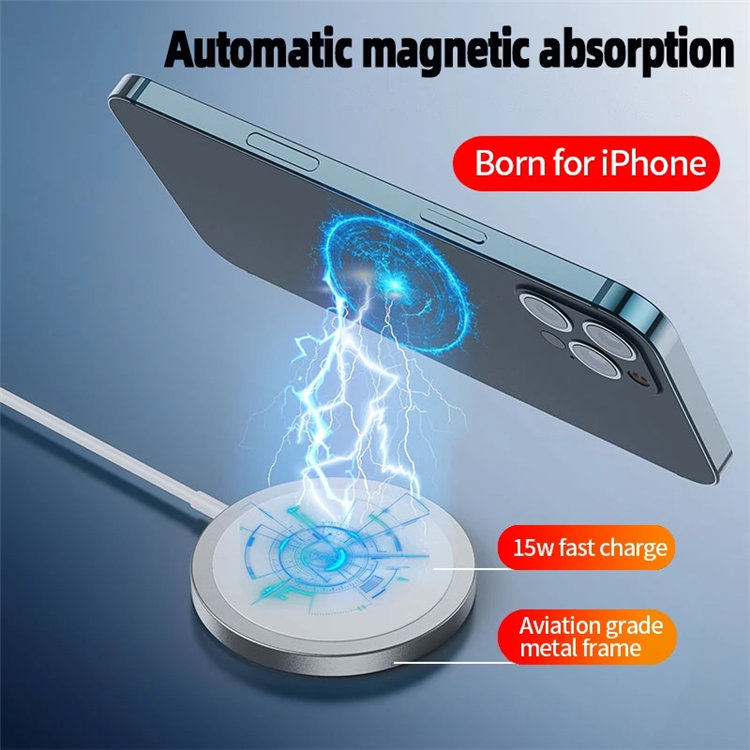 MagSafe also can charge your:
iPhone 8 or later
AirPods with wireless charging case
Other Qi-compatible devices
Note:
If you don't have a USB-C power adapter, you'll have to buy that too. It does come with an integrated USB-C cable.
MagSafe Charger needs a power adapter of at least 12W of power says Apple, and will charge slower if you're not using at least a 20W.
Your iPhone gets pretty warm after charging with MagSafe and Apple acknowledges this. Apple says if your iPhone gets too warm from wireless charging, iOS may pause charging once it gets to 80% as a precaution until your phone cools down.
Is Apple slowly moving towards an iPhone without any ports and only MagSafe for charging? That might be happening but until then, charging with a Lightning cable is still the best bet when you need to recharge your phone the fastest way possible.
Advantages of wireless chargin:
Universal compatibility. Qi charging is the universal standard, so if you have multiple different wireless capable devices, you can use the same charging pad without any issue.
Safer connections. Since the charging is all occurring inside an enclosed environment and without cords, there's no corrosion because there is no exposure to water or oxygen. This also means that there is less risk of electrical faults.
More durable. Without having to regularly plug or unplug, there's also no wear and tear on the smartphone sockets. If you alternate between charging wirelessly and with cables, this also means less wear and tear on your cables.
Disadvantages of wireless charging:
Not exactly wireless. When people hear the term wireless, they immediately think that they can move around pretty freely. Unfortunately, this isn't the case with wireless charging. Whereas with a cord you are at least free to move around the diameter of the cord, with currently wireless charging your smartphone has to stay on top of the charging pad in order to continuously charge.
Slower charging. The efficiency of Qi charging is still lower than cable charging, so it takes more time to charge wirelessly using the same amount of power. Wireless charging supposedly takes 30-80% longer to fully charge your device than a cable.
More expensive. As a pretty new technology, it's more costly to purchase a wireless charging pad, especially when new smartphones come with a corded charger in the box.