Mini Emergency 3000mAh Capsule Portable Mobile Magnetic Power Bank
2021-03-31 17:42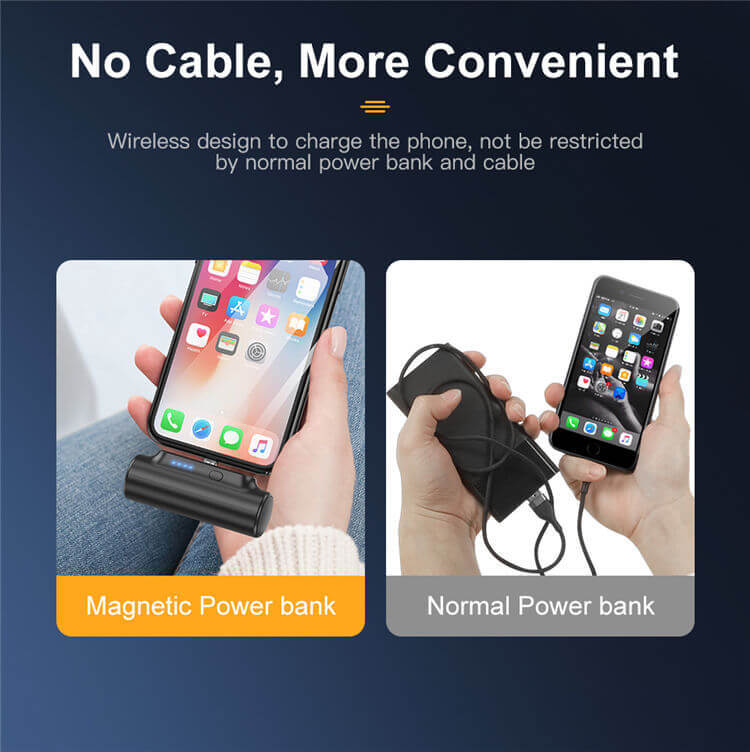 Let's get to know the new portable mini three-in-one magnetic capsule power bank in 2021!
This mini mobile power bank adopts a simple structure design, smooth lines and atmosphere, and it is miniature like a capsule, and adopts a wireless design. It has a built-in magnetic charging interface. When the phone is charging, you can continue to use the phone as usual without being bulky. The power supply and USB cable are bound. It is small in size and weighs only 60 grams. It can be carried with you to charge your mobile phone anytime, anywhere. Equipped with three output magnetic plugs of for Android Apple Type-C, the powerful magnetic design can be absorbed instantly, the magnetic connector can be changed at will, free from the shackles of the USB cable, and it is more convenient to travel. LED power indicator, let you know more about your power consumption. It is fully compatible with mainstream equipment on the market, with multiple protection systems, effectively avoiding various charging accidents, and the power bank parameters comply with national standards and can be carried on the plane. Fashionable black and white colors let you choose.
Don't you be tempted by the mini-portable, convenient and practical magnetic-capsule mobile power bank?