New Earbud In-ear Earphone
2020-05-21 11:44
Apple's AirPods have clearly defined the trend of the tech-friendly user: getting rid of cables and using the headset to favour the most comfortable Bluetooth technology.
The main advantage of this technology is really just one, albeit an important one: merely the annoying tangles! This obviously also implies greater freedom of movement (with the possibility of more interaction with your surrounding environment) and a reduction in the risk of damage to the headset. In support of the "Bluetooth revolution", there is a new technological breakthrough which is literally breaking into consumer hi-tech, TWS technology.
What is TWS technology?
Nowadays, we hear about it more and more: the term TWS or True Wireless Stereo refers to a technology which allows you to pair two audio devices via Bluetooth, meaning that you can transmit the L channel (left) and the channel R (right) separately. You can certainly imagine the advantage of such technology applied to earphones.
This are revolutionary wireless headsets, which use Bluetooth as well as integrating TWS technology, both for listening to music and for phone calls.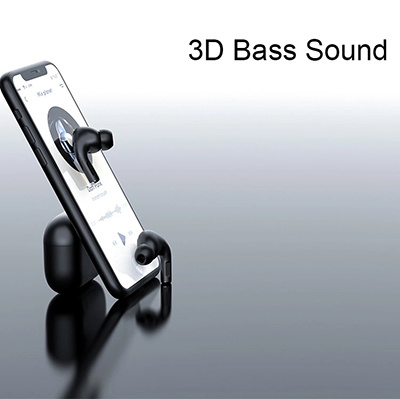 The surprises don't end here because the elegant, contemporary and compact case also acts as a magnetic induction charging base, capable of recharging a 50 mAh battery in just 50 minutes, to last between 4-5 hours.
Regarding quality of performance, it is important to remember that Bluetooth 5.0 technology guarantees an extremely stable signal in a transmission range of up to 10 metres.
TWS Bluetooth earbuds allow to listen to music, answer calls while driving, walking, playing sports
This object gives an excellent technological performance while keeping an eye on style. The external parts, in fact, have large round, flat surfaces which can be customized in four colours and silk-screen printing.